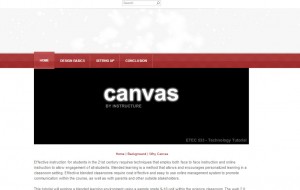 This Tutorial explores educational technology (Canvas Course (Learning) Management System) that can help educators create blended learning environment. As discussed in this tutorial, a modern LMS performs three important educational functions:
Facilitates the consistent delivery of course content;

Provides a structure for course management; and

Provides the educational institution with powerful tools for curriculum development, communication,collaboration, calendaring and task management automation.
If you want to learn how to implement it in your classroom, explore this resource.